Our 100% Organic Bamboo sheets are trusted for their:
- Softness and gentle feel on the skin.
- Moisture-wicking properties to keep you dry.
- Breathability for better airflow and temperature regulation.
- Hypoallergenic nature, repelling allergens and dust mites.
- Antibacterial qualities for cleanliness and odor prevention.
- Sustainability, being an eco-friendly choice.
- Satin weave construction
- Thermal regulating
- The perfect sheet for year-round use
-Skin-Friendly
- Ecological
Avoid blending your bamboo sheets with other colors when washing.
These linens must be washed carefully, either by hand or in a washing machine with a delicate cycle, using cold or lukewarm water (up to 40°C) and pH-neutral soap. Refrain from using fabric softener, as it can cause the fabric to shrink.
Thoroughly rinse with ample water and avoid using chlorine or bleach.
We do not recommend using dryer softener on bamboo sheets, as the fibers may become discolored.
Although ironing is not encouraged, if desired, use a low temperature to remove any creases.
Share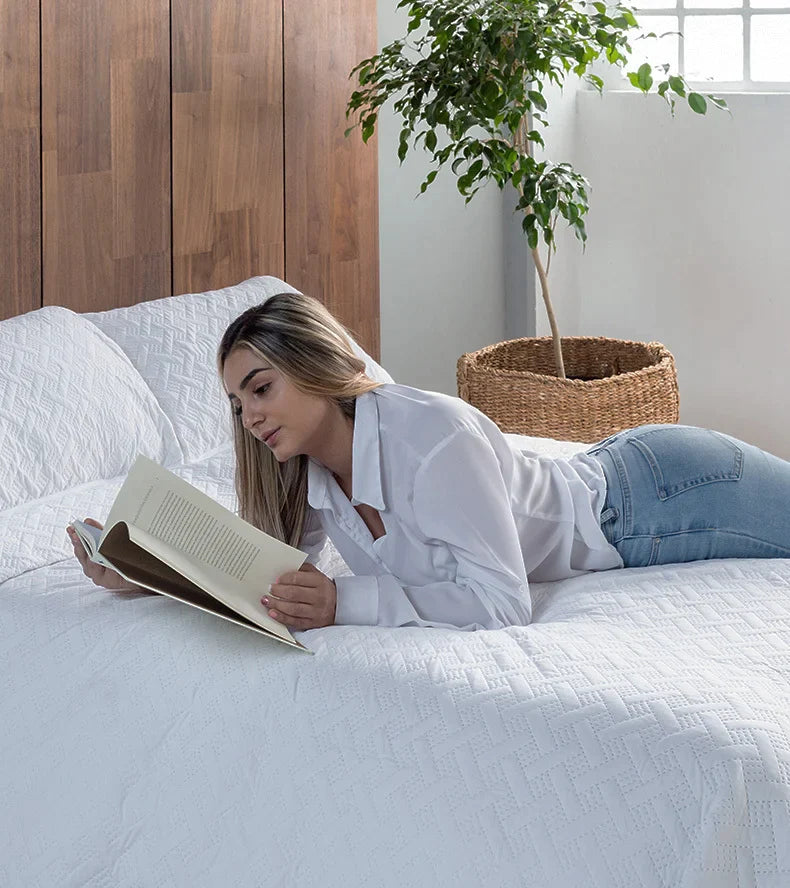 Why the Reversible Quilt?
Ideal to use all year round
Bamboo fibers are a highly breathable and thermoregulating material, which means it will help keep you cool.
The neutral and delicate tones give the contrast you are looking for to your room
With Pinsonic technology
The design is elaborated based on this innovative technique that guarantees an impeccable result, where each detail of the pattern is perfectly united to the fabric.
Its texture provides a feeling of luxury and comfort
Modern alternative, easy to combine that will make your room shine
allergy free
Naturally hypoallergenic material and resistant to dust mites, with materials of the highest quality
Certified by OEKO-TEX® STANDARD 100, which ensures that each component has been tested and certified to be free of harmful agents that are harmful to human health.